Episodes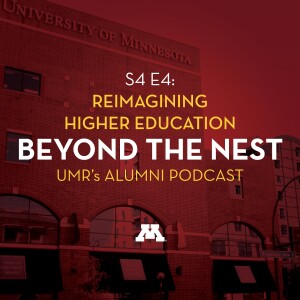 Thursday Apr 27, 2023
Thursday Apr 27, 2023
In episode 4 of this season of Beyond the Nest, we hear from University of Minnesota Rochester's founding generation of academic leaders, innovators, advisors, and strategists. 
Through their stories we hear how each arrived in Rochester, the unique way in which UMR approaches its academics, how new paradigms within Higher Education are built, and the reasoning behind many of the campus' most innovative student-facing programs. 
If you would like to share your UMR journey, please check out UMR's LinkedIn or send an email to beyondthenest@umn.edu. 
Connect with UMR